Free publicity can be a powerful tool for growing your business. Not just because it's free, but for the tremendous credibility that comes with media coverage. The good news is, getting all of the free publicity you need is a game. The only problem is, the rules of the game haven't been clearly stated -- until now.
This bonus report will give you a professional publicist's arsenal of tools for winning all of the free publicity your business needs. You'll find out how to create a simple, powerful publicity plan, what to do to easily double or triple the amount of coverage you get, and a wealth of hot tips and techniques for converting publicity to increased sales.
This report normally sells for $20. But it's yours free when you purchase the course.
| | |
| --- | --- |
| Bonus #3: | A Special Interview With Marketing Legend Ted Nicholas |
If you've been around direct marketing at all, Ted Nicholas' name is familiar to you. Ted's success with space ads and direct mail is legendary. He has single-handedly created campaigns that have sold over 200 million dollars worth of books for his company.
A few years ago, Bob was able to interview Ted for an hour. The interview yielded a 21-page report called, Ted Nicholas: Self-Publishing And Copywriting Secrets. In this unique report, Ted shares the secrets of succeeding in self-publishing. Not just as a primary business, but also as a way of generating huge amounts of qualified leads for your existing business.
Then Ted digs in and shares the secrets he's used to create the copy that sold 200 million dollars worth of his books. Some of the topics Ted covers in great detail include...
Inside information on creating riveting headlines


The secret of writing hypnotic body copy


How to price products for maximum sales


The secret of the "ultimate benefit"


How to test your copy
And more. Quite simply, Ted tells all!
If you want to profit from the experience of one of the most successful direct marketers ever, don't miss this riveting report. A bargain at it's normal selling price of $20, it's yours free with your purchase of the course.

Now considering that the value of the bonuses alone comes in at $99, you might expect to pay in excess of $350 for How To Write Million Dollar Ads, Sales Letters, And Web Marketing Pieces PLUS all three bonuses.
But I have good news for you. That price isn't even close. I've packed as much value as I possibly can into this exciting package, yet I'm making it available for the extremely reasonable price of just $147. That's less than what you would pay for just the bonuses if you were to purchase them separately.
And for that low of an investment to substantially improve the results of all your marketing, you simply can't go wrong.
How long will I keep my price this low - just $147? I can't say for sure. But for at least the next 30 days, the price for the course plus the three bonuses is a modest $147.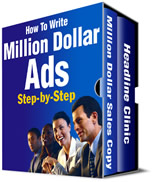 I'll "Sweeten The Deal" Even More — I Invite
You To Put All Of The Risk Entirely On Me
Now, in case you have any lingering doubts whatsoever, I want to make it foolproof for you. You see, I completely guarantee that the proven strategies and techniques you get from Bob Serling PLUS 22 of the country's other leading marketing experts and copywriters will work for you.
So here's what I'd like you to do. Try this course for three months with no risk whatsoever. The risk is completely mine.
You can "test drive" every strategy and technique of Bob and his 22 experts as many times as you like. Prove to yourself that their wisdom makes a real difference in your sales and profits. If you aren't completely satisfied, I want you to ask for, and get, your money back.
That's how confident I am that this breakthrough course will forever change the way you do business and contribute mightily to your bottom line.
The truth is, you'll never have to worry about a refund. Because once you start using these ingenious, proven techniques and see the immediate increase in your sales and profits, I'm betting it will be impossible to get you to part with your copy of this powerful course.
If You Want To Get In On This Limited
Opportunity — You Need To Act Now!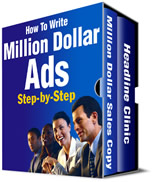 As you can probably tell, with everything I've packed in to it, this course is a true bargain. Which means I expect a flood of orders. And once the initial print run is sold out, I'll have to return your payment until more copies can be printed.
So if you're really serious about increasing your sales and profits with as little effort as possible, you can't wait. You need to take immediate action.
Don't wait. Order your copy of How To Write Million Dollar Ads, Sales Letters And Web Marketing Pieces right now. That way you can get on a fast track to increasing your sales and profits right away.
Sincerely,
Jeff Johnson, President
Profitable Results Marketing, LLC
P.S. Remember, the risk is entirely on me. You can use every strategy and technique of Bob Serling and all 22 experts for 3 full months and prove to yourself that they work as well as I've promised.
If you aren't satisfied, for any reason, just return the course for a prompt, full refund. You've got absolutely nothing to lose -- and substantial sales and profits to gain. Click here to claim your copy right now.